Our Igloo experience
New to Woburn Sands and Willington this Winter, our Igloos are available to book between December and February 2021. Enjoy breakfast, lunch or afternoon tea with our changing seasonal menu, it's the perfect place to cosy up this Winter.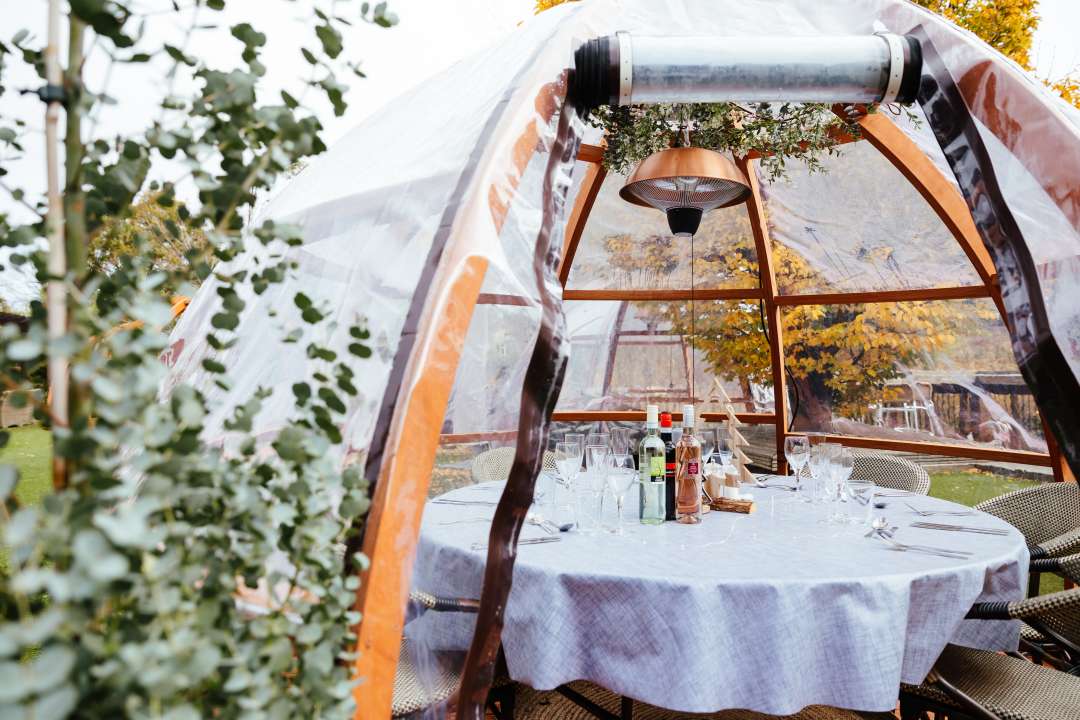 Frequently Asked Questions
What's included in the Igloo experience?
Your experience will include a private igloo for 6 people or less, complete with heater and Bluetooth speaker for your own music. You will also have a disco ball and mini fridge, stocked with your pre-ordered drinks.
Please see menus below, our dining Igloos are available for breakfast, lunch and afternoon tea.
Christmas Menu (Served from 2nd December - 4th January 2021)
Winter Menu (Served from 5th January - 28th February 2021)
Drinks Menu (We offer a selection of drinks packages to add to your booking)
What dates will the Igloo experience be available?
At Woburn Sands we will be taking bookings for breakfast and lunch on Friday 30th, Saturday 31st October and Sunday 1st November.
Our Igloos at both Woburn Sands and Willington will then be open daily from the 7th November, we are currently taking bookings up until 28th February 2021.
Dining time slots are as follows (Sunday time slots differ slightly) -
8:30am-10:30am or 9am-11am (from December 27th onwards please note Breakfast sittings change to 9am-11am)
11:15am-2pm or 11:45am-2:30pm (from December 27th onwards please note Breakfast sittings change to 11.30am-1.30pm)
Late lunch or afternoon tea:
2:45pm-5:30pm or 3:15pm-6pm (from December 27th onwards please note Breakfast sittings change to 2.15pm-4.15pm)
What extras can I add?
Arrival drinks and drinks packages are available to pre-order at point of booking, the menu is available here.
What is the cost?
The cost of our dining packages are:
Breakfast - £100
Lunch - £150
Afternoon Tea - £150
This includes your food choices from the above relevant menus, for up to 6 people. Drinks packages are available separately.
Are there restrictions on who I can dine with due to COVID-19?
Currently, there are no restrictions on who you can dine with if you are 6 people or less.
For more information on social distancing and the current rules, please visit www.gov.uk/coronavirus
How do I book?
Please email reservations@frostsgroup.com with the following information:
The centre location i.e. Woburn Sands or Willington
The date you would like to book
Your contact phone number
One of our reservations team will call you back to process your booking over the phone, full payment will be required at this point. Please be aware that we will need your groups full menu choices and any allergies at this point of booking.
Bookings will be offered on a first come first served basis via email. Bookings must be made at least 48 hours in advance. No amendments can be made after this time.
Can I cancel my booking?
You may change your booking should you become unwell but we are only able to offer current availability in order to re-book.
If you or any one in your party are experiencing any Coronavirus symptoms, then please let us know so we can re-arrange your booking. Please note that it will have to be at least two weeks after the original booking date as per quarantine guidelines.
Are they heated?
Are children or dogs allowed?
Children are more than welcome, unfortunately you cannot bring your dog into the Igloos.