Gender Pay Report
Frosts Garden Centre Ltd Gender Pay Gap Report 2019
This report has been compiled in accordance with Gender Pay Gap regulations using data as at the snapshot date of 5 April 2019.

At this point the company employed 447 people of whom 282 (63%) were female and 165 (37%) were male.

Our pay and bonus Gender Pay Gaps are as follows:
Mean

Median

Apr-19

Apr-18

Apr-19

Apr-18

Pay

6.0%

9.5%

0.0%

0.0%

Bonus

251.1%

68.5%

0.0%

0.0%
2% of females received a bonus, as did 1% of males.
The proportions of females (blue) and males (orange) in each quartile pay band were as follows: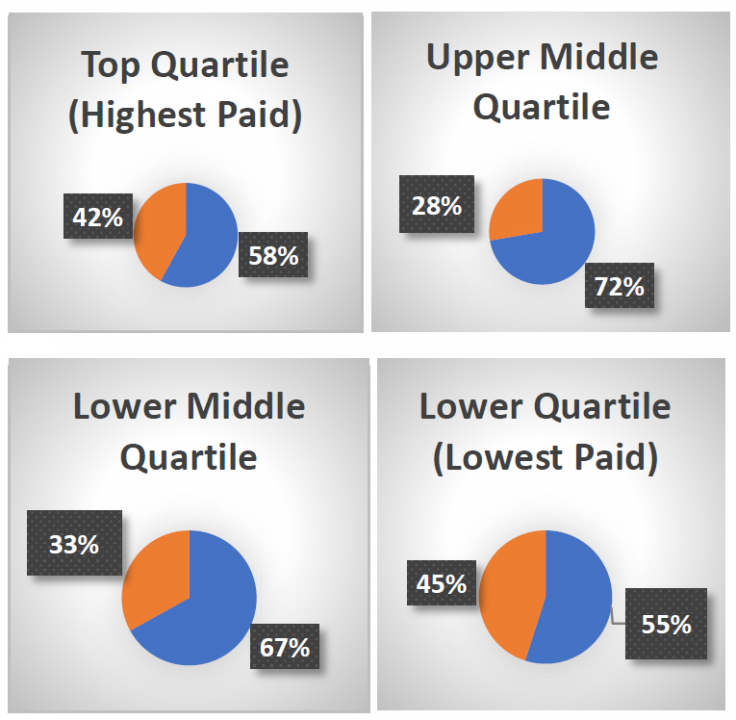 Commentary
• The mean gender pay gap at Frosts, as at April 2019, has narrowed by 3.5% to 6% compared to the previous year while the percentage of females in the top pay quartile has increased from 56% to 58%.
• There continues to be no median pay gap.
• There was no median bonus gap and the reported mean bonus gap is a statistical distortion during a year when only 1.6% of employees were paid a bonus.
• The ratio of female to male employees has reduced slightly from 64:36 to 63:37 however, as reported above, the proportion of higher paid female employees has increased.
• There are no differences in pay rates at any level for different genders occupying equivalent roles.
• Frosts continues to actively promote flexible working which we believe is essential to making us a more attractive and equal opportunities employer.
Declaration
I confirm this information is accurate at the snapshot date of 5 April 2019.

James Frost
Managing Director
Frosts Garden Centre Ltd
27 November 2019